Custom slides in Featured Articles PRO are private posts that can only be used as slides into sliders. They won't display on your front-page, archive or feed.
How to create custom slides
Custom slides can be created from plugin menu page New Slide. Once the link clicked, you will be taken to the slide editing page that pretty much looks like regular posts editing page except some extra features.
The minimum amount of information you should enter for a slide is the title and content. All other informations are optional.
Custom slides can be categorized into Slide groups for easier management. For now, this is the only functionality of slide groups, with time this might be extended to incorporate extra functionality.
Options available in slide editing page:
read more text : you can customize the text displayed on the read more link for the currently edited slide. This option will override the slider general option for read more text;
CSS class: you can add an extra CSS class on the slide in order to be able to customize its looks from CSS without affecting all other slides;
URL: since custom slides aren't public, the read more link will only be displayed if this field has a URL entered in it; This allows you to direct users to another website or to pages in your own website;
Title color: for any particular custom slide, the slide title color can be customized; this option will override the default slider theme CSS;
Content color: similar as the title color but works for slider text;
Background color: you can customize any custom slide by adding it a custom background color;
Slide image: if selected, the slide image will override the Featured image (if any is set);
Apart from attaching images to slides, you can also attach videos (YouTube and Vimeo). This is done from the Video panel by simply entering the video ID and source and selecting what data should be imported (video title, content, image, video embed) .
After hitting Query video, depending on your selection, the title and content will be populated automatically with the title and content retrieved from the API and also the image will be set as featured image or as slide image and the video itself will be attached to the slide.
Once a successful query is completed, if you selected to attach the video to the slide, you will be presented with an extra set of options that will be used to embed the video into the slide. Among these settings, you can set the video size, volume, autoplay option, full screen option and loop option.
Using custom slides into sliders
So you created some pretty awesome slides. Now what? Next thing to do is put them into sliders and display them on your website.
To do this, when editing or creating a slider, in Slider content panel choose to create a slider from Mixed content.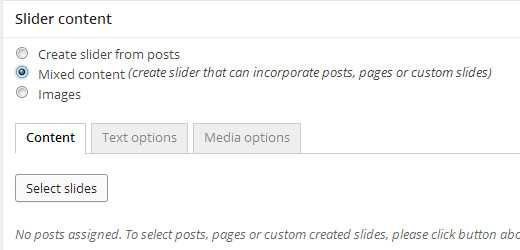 Once selected, you will notice a button saying Select Slides. When clicked, it will open a modal window containing views for all post styles allowed to be used as slides. First view is Custom slides, click it, identify your slides into the list and check the checkboxes next to them. Close the modal window and you will see the slides appear under the Select slides button.
Slide groups
Slide groups are a very simple way of grouping custom slides for later reference. For the moment, they have no extra functionality except to serve as a way to put all custom slides belonging to a slider into a category.