Dynamic areas are a very simple and useful way of publishing sliders into designated areas in your WordPress website. Basically, dynamic areas are containers that can display sliders.
The way they work is pretty much like WordPress sidebars but instead of being able to hold all kinds of  widgets, they can only display sliders.
Dynamic areas in Featured Articles PRO can be registered from plugin menu Dynamic areas. By default, the plugin registers as dynamic area the main posts loop area and you are able to publish sliders into this area without any additional changes to your WordPress theme files.
There are some steps that need to be taken before being able to publish sliders into a custom dynamic area that you created yourself:
1. Register the dynamic area (no coding needed)
To register a new dynamic area, go to plugin menu Dynamic areas and simply fill the form available into the page. Choose a relevant name for your dynamic area and enter a description for it so other users (or yourself) know where this area is displayed. Once all details are in place, hit Register area.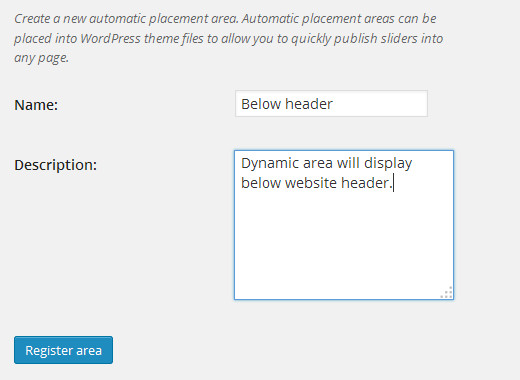 Your newly created dynamic area will appear into the areas column under Dynamic areas.
2. Place the dynamic area code into your WordPress theme
Once a new dynamic area is created, you will need to place a small piece of code into your WordPress template file that you want to display the area in. For example, if you would like to display sliders under your header, most likely you will need to place the code into WordPress theme template file header.php.
The code will be visible when clicking into your newly created dynamic area panel the button saying: Area PHP code.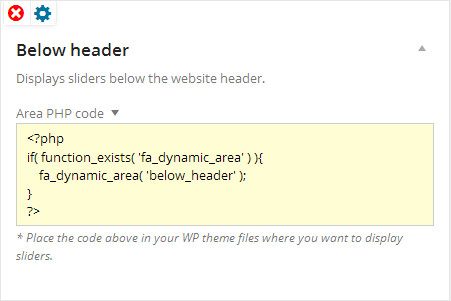 Also, please note that in your theme you can place an HTML container (a div element) around the PHP code that you can style in any way you need.
3. Publish WordPress sliders
With your new dynamic area ready and properly set up, you can now start publishing sliders into your WordPress website more quickly.
To publish a slider into your dynamic areas, from slider edit page, go to tab Publish in bottom slider settings panel titled Slider output. Under Display in dynamic areas, select the area/areas where you want to publish your slider and next, select one of the other options that control on what pages the slider will be published and you're done.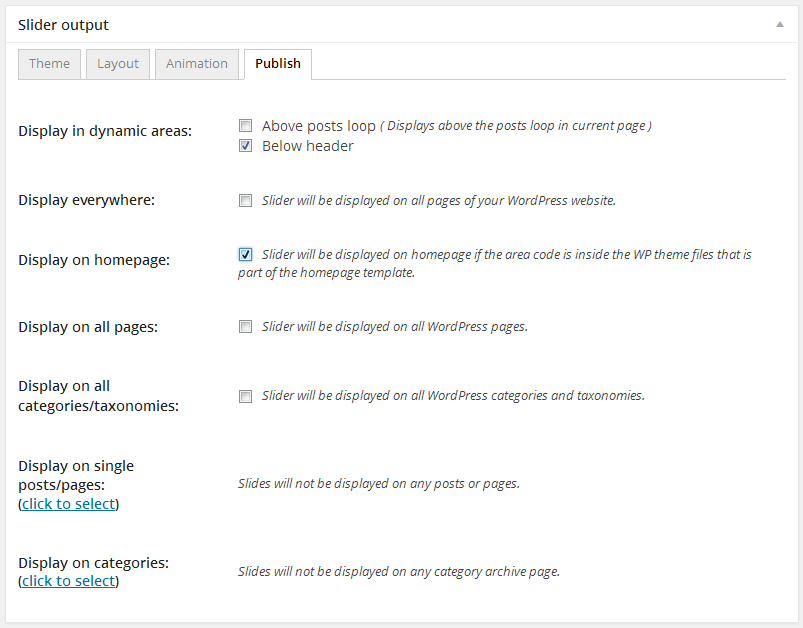 As you probably have noticed, the plugin allows you to publish WordPress sliders on manually selected category pages, manually selected single pages, all categories, all pages and everywhere in your website. Please note that options override each other, meaning that if you choose to display a slider everywhere, all other publishing options will be disregarded (same applies for all categories and all pages options).