After setting up a slider using WordPress slider plugin Featured Articles, it's time to display it into your pages. By default, it won't show anywhere on your website unless you use the slider shortcode or the slider widget to display it. Third way of displaying sliders into your WordPress website is by using the dynamics areas feature implemented by the plugin.
Please note that this tutorial assumes that you will use the
dynamic areas feature
implemented by the plugin. Sliders displayed using the slider shortcode or the slider widget will disregard the settings described below.
While in slider edit screen, from panel Slider output go to tab Publish.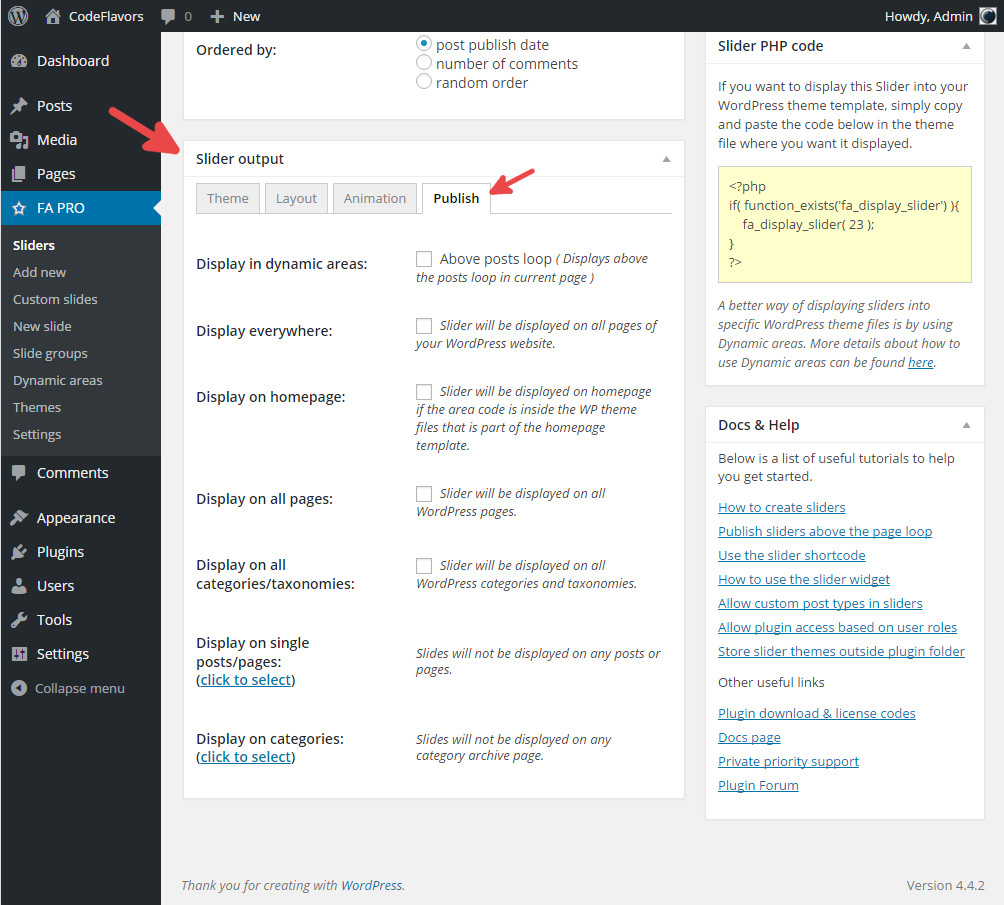 First field (Display in dynamic areas) will list all your registered dynamic areas and you can choose in which areas you want to publish the slider. The only area available by default is the "above posts loop" area which, when checked, will display sliders into your pages above the main posts loop (ie. if your homepage displays the most recent posts, the slider will display above it). To see how you can register new areas, please see the dynamic areas page.
All other fields will control on which pages the currently edited slider will be displayed. As you can see above, you can display the slider everywhere in your website, on your homepage, on all pages, on all categories/taxonomies pages or you can select only certain posts/pages/categories/taxonomies on which to display your slider.
This feature is helpful if, for example, you create a dynamic area into your WordPress theme header.php and you want, for this area, to display certain sliders in certain pages of your website (ie. a certain slider on your homepage and a different slider on some of your pages).